Joining the Dots: Culture in Plymouth
Plymouthians are generally recognised for their friendly, relaxed and understated manner, its one of the things that makes Plymouth such a great place to live and work. Don't confuse this with complacency though, things are happening here.
Plenty of people are quietly working away on interesting and inspiring activities in the city, as we have discovered.
In a recent article we wrote about the potential benefits of the UK City of Culture 2017 award for Plymouth, and how other cities have been transformed by cultural investment. Since then, we have had conversations with many people who are passionate about Plymouth and are doing inspiring work in the city. This piece will be an exploration of grassroots and community based culture in Plymouth (Image above: Splish Splash Salsa by Mark Dunk).
In this day and age we are spoon-fed our entertainment – light frothy distractions from the real world. We sometimes forget that making an effort to scratch below the surface can pay dividends when it comes discovering the cultural life of a city. Culture is a matter of taste of course and although we like the 'big show' as much as anyone, it is the little gems that give us the most pleasure.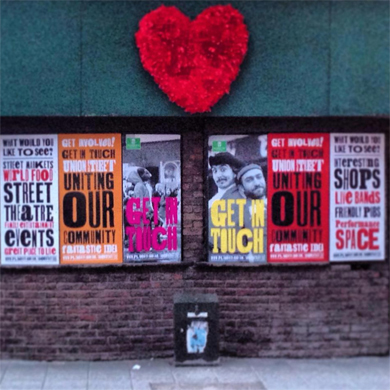 Everybody likes to have a whinge about Union Street, even those who appreciate its rich history and iconic buildings will admit it has a dilapidated air, and the grandeur it once had is now most definitely faded. So it really brightened our day when we noticed that many of the boarded up windows have been transformed into a colourful open air gallery. There are cheerful hearts and flowers, portraits of community members and historic playbills from the grand Theatre. This is a result of much hard work from local residents and organisations, including Stonehouse Action Group and  51 Studio/ We Have Knowledge. It's a great example (literally) of the "Broken Window" hypothesis, in which seemingly trivial issues, like litter and boarded up premises, are said to be "tipping points" which contribute to the decline of a neighbourhood, attracting crime and vandalism. The Union Street Community Gallery is helping to reverse this effect, and it's not a one off. A group called Fotonow is doing exciting photographic work with children in the city. They brought their Camper Obscura – a camper van transformed into a camera obscura – to the Millfields Trust in Union Street this February, along with many enthusiastic and knowledgable primary school pupils. These are great examples of the positive changes that take place when those in the creative industries engage with the community.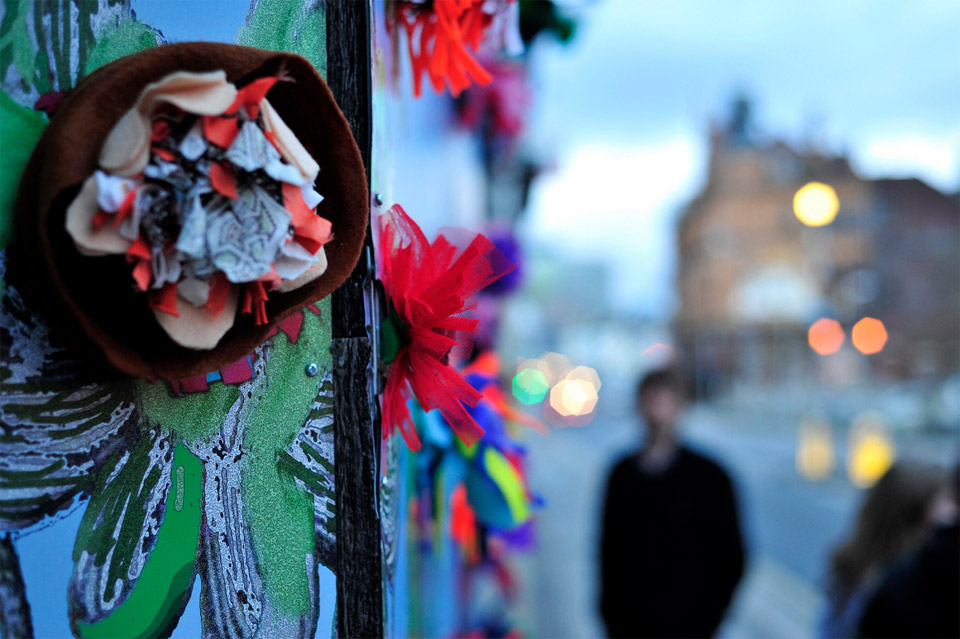 Image: Fotonow/ Fotoplus
Let's not underestimate it – the City of Culture Award would benefit everyone in Plymouth, not just those who work in the creative industries. It would provide regeneration and bring in jobs, improvements in infrastructure and a positive change in attitudes and confidence in the city. As the chair of the Arts Council in England has recently pointed out
"There is no city in Britain that does not understand the importance of the arts and culture, both as central to the life of the city and to the local economy."
Peter Bazalgette
The Theatre Royal Plymouth's People's Company recently performed Sailors and Sweethearts, "a story by the people of Plymouth for the people of Plymouth". As far as the debate about the city of culture is concerned this play really hit the nail on the head. As well as tackling some tricky social issues, it celebrated Beryl Cook's exuberant paintings of Barbican nightlife in true Plymouth style.
The ability of culture to bring people together is also well documented in footage from pre-war Plymouth:
"what comes across is a place with a real sense of community spirit. There were carnival processions, Jubilee celebrations, music at the bandstand on The Hoe, local fetes, and sports events – and it seemed everyone turned out to watch."
BBC Devon
The fact that Plymouth had 16 cinemas and many theatres in the 1930s is also pretty impressive.
Despite the tragic loss of much of the city during the Blitz, Plymouth still has locations that other cities would die for. When you visit Plymouth seafront, especially on days with blue skies and sparkling seas, you really appreciate that it's somewhere special. The higgeldy piggeldy steps and concrete structures rising out of the sea are seen by some as an opportunity for creativity. Trerise Gallery and Studios has brought back to life a set of disused changing rooms built into the rock face along the Hoe Road. This is a fantastic use of the location and the place is a hive of activity.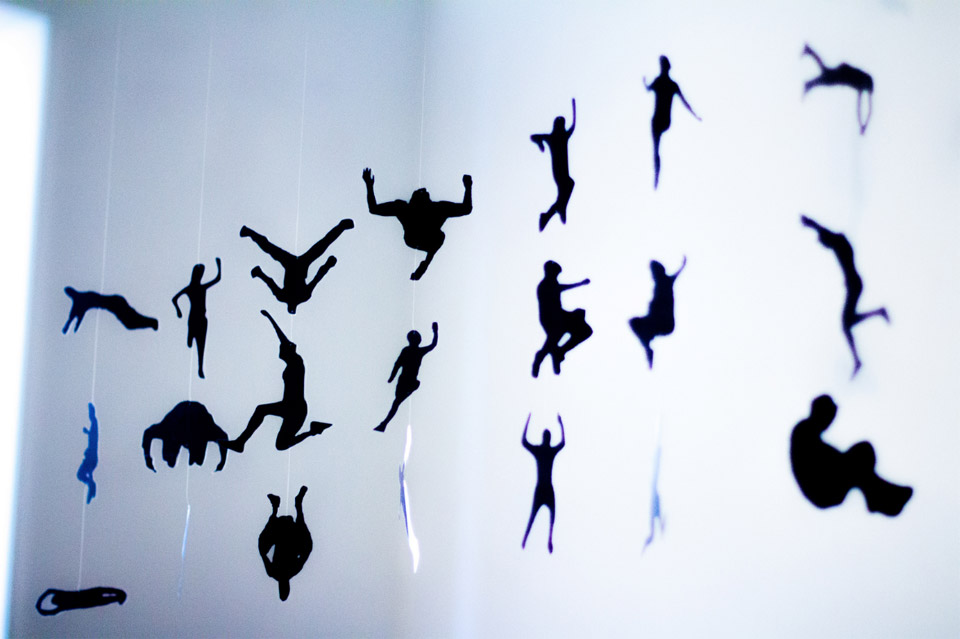 Image: John Stephens
The recent Platform exhibition at Trerise, in conjunction with Plymouth University, was composed of artists' diverse responses to the site. Sarah Hodge, Laura Hopes and Kelly Soper and other artists made work inspired by the diving boards that used to stand on the seafront. Many people have strong memories of these structures, which lends a sense of romanticism to the work. It also resonates with the fact that Plymouth is now famous for diving. Sarah Connell used the Colonnades for a haunting sound and video installation piece. The art show was a catalyst for people to share stories and memories and ideas about art, culture, sport, and Plymouth. It was moving. The influence and interplay of the sea is irresistible for Plymouth artists, and the location was used in a refreshingly simple and beautiful way.
There is a concreted-over tidal pool below the gallery, which is being put to outstanding use. At the recent Platform exhibition Rosie King projected footage of people swimming in the pool in the 1900s onto this area. The platform glowed, and the ghostly images reawakened a whole history. And the concreted pool really has come alive again. In the summer it's used as a dancefloor for Splish Splash Salsa. This video of people dancing in the sunshine last year with the sea lapping at their feet is breathtaking:
This Easter weekend you can visit the first Arts and Crafts Market at the Colonnade, sponsored by Trerise gallery and El Cafe. One of the exhibitors will be Artist Dave Crocker, who is now close to completing an amazing 365 paintings in a year on the South West coastal path. His website, soon to be launched, promises to be an exciting resource for visitors to the path.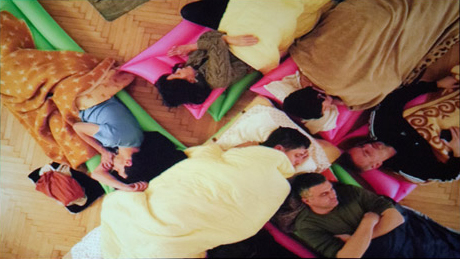 Culture that responds to the local landscape and issues in the city is very important, as we have seen, but bringing in new ideas is equally vital. Plymouth's location is fairly isolated, which means that those in the creative industries, especially, should make the effort to visit other places, to expand the mind and refresh the palate. Showing work from outside Plymouth is also essential for our development as a 21st century city. KARST Gallery's recent Memex exhibition (image above courtesy of KARST) is a perfect example of this. It is a dreamlike installation developed through collaboration between Bristol Diving School and Third Belgrade. It's a meeting of minds from across the world. The exhibition closes tonight (29th March) so you can still catch it if you're quick. Also working in Plymouth with an international perspective is Tribe Magazine, a creative showcase for artists from across the world.
It's clear to see that there is much cultural activity happening all around Plymouth. Even when things begin on a small scale, it's important that this is supported by the council and businesses and given the opportunity to grow organically. This way, all the little things going on and people working around the city will begin to connect together to form a cohesive cultural framework. Whether or not Plymouth does gain the UK City of Culture award, the development of culture in the city can only be a positive thing. A new report published by the Local Government Association has found that
"arts investment contributes up to £4 to the local economy for every £1 spent" 
As if we need reminding, culture is proven to be essential to the functioning of society, to physical and mental health, and to the economy. Just because it's enjoyable doesn't mean it's indulgent.
If you know of any other events or little gems please let us know.